Looking for 5754 5052 5083 5251 Aluminium Sheet? Click Here!
Product Description
5 series aluminium alloy: 5052, 5005, 5083, 5086, 5182, 5454, 5754, 5A05, 5A06 etc.. 5 series aluminum alloy is a common series, the main element is Magnesium, can also be called aluminum magnesium alloy, the main features are low density, high tensile strength, high elongation. The weight of al-mg alloy is lower than that of other series under the same area, so it is often used in aviation, such as aircraft fuel tank. It is also widely used in conventional industry.
Customer Requirement
5754 aluminum(3.3535 Almg3): our main market is European countries like Russia, Croatia, France, Italy, Switzerland, Germany, England etc. Usually European customers use it for curtain wall plate, transportation, vehicle bodies etc.
Common temper: 5754 h111 h22
5052 aluminum: the main markets for aluminum 5052 are North America like America, Canada, Mexico etc., Southeast Asia like Vietnam, Thailand, Malaysia and Singapore, Indonesia etc., European countries like Russia, Croatia, France, Italy, Switzerland, Germany, England etc. Usually for curtain wall and oil tank materials.
Common temper: 5052 h32 O
5083 aluminum(3.3547 almg4.5 mn07): the main markets for aluminum 5083 is European and Southeast Asia countries. Usually for customers to building ships, boats etc.
Common temper: 5083 h111 h32 O
5251 aluminum: it's usually used by England customers. 5251 aluminum is widely used in Architectural facilities and panel.
Common temper: 5251 h32, h22 ,O
Common size: 4x8, 8x4 ft, 2000mm x 1000mm, 3000x1500, 2400x1200, 1000x2000, 2500x1250, 4x10, 5x10, 48x96", 60x120"
Common thickness: 1mm, 2mm, 3mm, 4mm, 5mm, 6mm, 8mm, 10mm
Product Video
Applications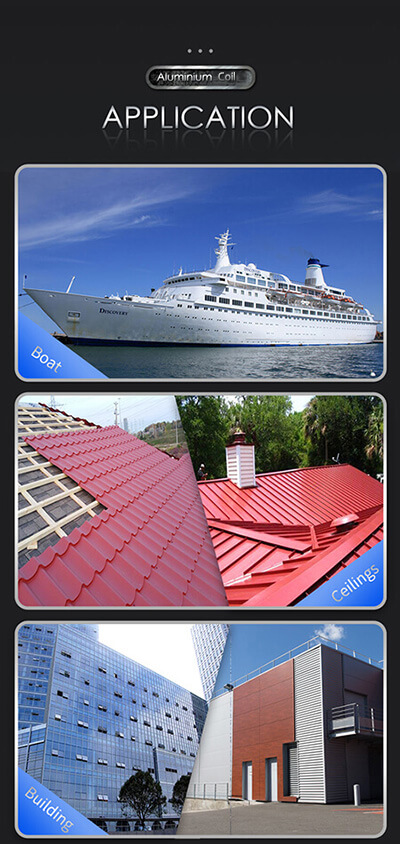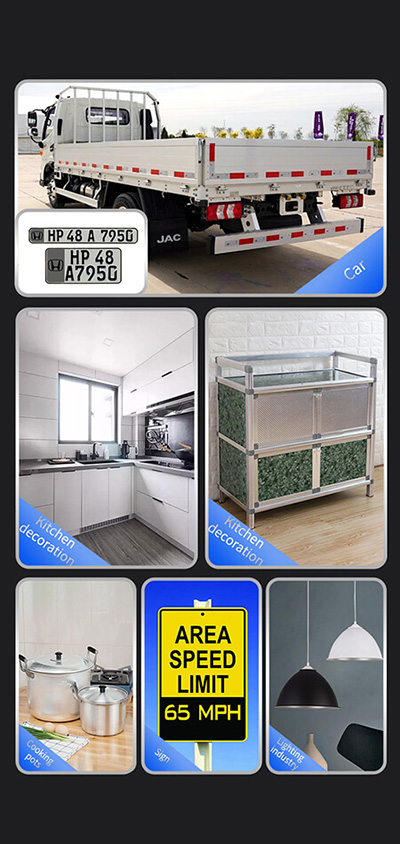 Product Parameter
Alloy
Applications
Application Details
Features
5052
Bus
Air conditioner on bus roof, skin for bus roof, luggage trunk cover, back engine hood
Aluminum shell for air conditjoner on bus roof, Aluminum skin for bus roof, aluminumluggage trunk cover and aluminum back engine hood can all use 5052 alloy. The alumnum allov used for the whole car body,in lightweight, corrosion resistance. sealingperformance, sense of aesthetic, security, service life, etc, is superior to the steeltructure. which is the better choice for car manufacturing.
Trucks
Oil tank, Pedal
Strong corrosion resistance, strong collision resistance and endergonic performance; for
checkered plate, it has high coefficient of slippery resistance and wear resistance, long
service life, and light weight, which conforms to the requirements of automotive lightweight.
Engraving
Engraved aluminum door panels, screens, curtain walls, guardrail relief artwork, etc
Lightweight, corrosion-resistant, with a delicate and lubricated appearance, strong three-dimensional sense, anti static and non dust, environmentally friendly and non-toxic, safe and fireproof, easy installation and maintenance, and 99% recyclable.
Aluminium antique tile
Roof aluminum tiles are used as roof materials for ancient temple buildings
Fireproof and anti-corrosion, beautiful and light, unique shape, recyclable
New energy vehicles
Power converter upper cover, New energy battery cover
Light weight, good corrosion resistance, high strength, good sealing performance, easy recycling and reuse of aluminum alloy, good processing performance, good heat transfer, and good oxidation effect
Laptop stand, Computer keyboard, Mobile phone holder,
Laptop stand supporting parts, Keyboard base plate, Support mobile phone,
The product is lightweight and convenient to carry. Beautiful and sturdy.
Set-top box
Aluminum shell
Good heat dissipation performance, beautiful and sturdy.
Radiator, Aluminum Impeller
Heat dissipation aluminum material, Vacuum cleaner interior
Strong, durable, lightweight, and good heat dissipation, Lightweight, good heat dissipation, good anti-corrosion perform
Computer power supply shell
Computer power case
Good heat dissipation, wear-resistant, and heat-resistant. Corrosion resistance, strong metal texture.
Aluminum substrate and circuit board
In some lighting fixtures, as circuit boards, they are now widely used for LED lights.
Aluminum substrate is a metal based copper clad plate with good heat dissipation function, commonly used in LED lighting products.
Aluminum used in the explosion-proof field
Used in special workplaces such as petroleum, chemical, gas production plants, gas transfer stations, mines, railways, electronics, etc
The use of percussion, friction, impact, etc. in flammable, explosive and corrosion-prone workplaces will not produce sparks and cause accidents.
Auto Parts
Auto Parts
Aluminum alloy has the advantages of light weight, good corrosion resistance, high strength, easy recycling and good processing performance.
Notebook shell
Notebook shell
Lightweight, good heat dissipation, good anti-corrosion performance, and can achieve energy saving and consumption reducing effects.
Alloy
Applications
Application Details
Features
5083
New energy battery side panel, partition
New energy battery side panel, partition
Excellent shock resistance and impact resistance, good battery protection, excellent corrosion resistance.easy processing, low density, light weight, and high recyclability
Air reservoir
Auto Parts
Strong corrosion resistance, collision resistance, and energy absorption
Long service life, light weight, in line with the lightweight requirements of automobiles.
Aluminum Plate for Boat
Used in shipbuilding
Light weight, good corrosion resistance, high strength, easy for recycling and reusing and good processing performance
Aluminum for commercial vehicles
Gas reservoir
It has strong corrosion resistance and anti-collision energy absorption.
Aluminum for umbrella frame
Umbrella frame
It is lightweight, corrosion-resistant, has a long service life, and offers high cost-effectiveness.