Short Introduction
Honeycomb aluminum panels are innovative construction materials known for their lightweight yet strong and durable properties. These panels consist of a core made from a honeycomb structure typically created using aluminum or other lightweight materials, sandwiched between two layers of aluminum sheets. The hexagonal or honeycomb-like pattern of the core gives these panels their name.
These panels are widely used in various industries, including aerospace, architecture, transportation, and marine applications. Their exceptional strength-to-weight ratio makes them a popular choice for reducing weight while maintaining structural integrity in various structures and components. Honeycomb aluminum panels offer benefits such as high stiffness, excellent thermal and acoustic insulation, and resistance to corrosion, making them a versatile solution for a range of design and engineering challenges.
Applications of aluminum honeycomb panels include:
Aerospace: Aircraft interior structures, engine nacelle soundproofing materials.
Architecture: Exterior walls, wall cladding, roofing systems.
Transportation: Interior decoration of trains and buses, weight reduction in vehicles.
Marine: Interior decoration, ship hulls, decks.
Renewable Energy: Wind turbine blades.
Industrial Applications: Machine tool surfaces, worktables, equipment enclosures.
Aluminum honeycomb panels are widely used in various industries due to their lightweight, robust, and versatile properties.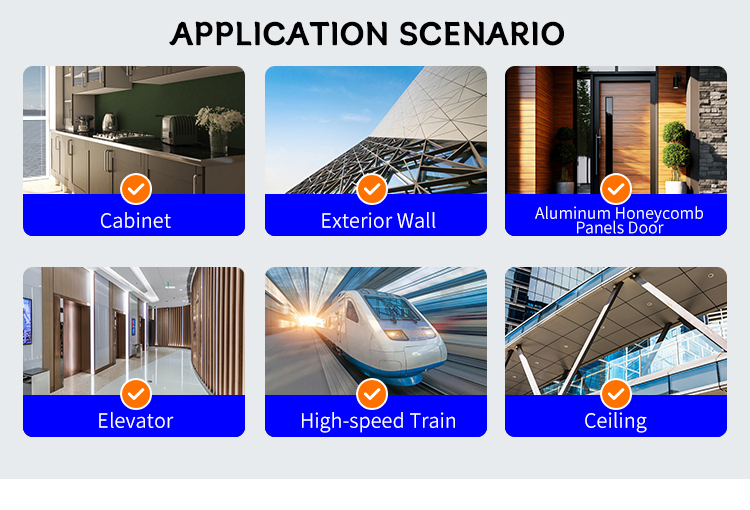 Product Video
Product Parameter
ITEMS
WITH THERMALPLASTIC FILMS
WITH MODIFIED EPOXY ADHESIVE
Width
Up to 2000mm
Length
Up to 6000mm
Overall Thickness
3mm to 500mm
Aluminum Sheet Thickness
0.5mm to 2mm
Aluminum Alloy
3003 / 5052
Surface Finishes
PVDF / PE / Powder Coating / Anodizing, / Mill, etc
Flatwise Tensile Strength
1.4Mpa
2.0Mpa
Flatwise Compressive Strength
0.8Mpa
0.8Mpa
Flatwise Shear Strength
0.5Mpa
0.8Mpa
Drum Peeling Strength
50N.mm/mm
60N.mm/mm
Flexural Strength
60Mpa
60Mpa
Temperature
Up to 180 degree Celsius
Up to 100 Degree Celsius
Resistance
Our Team